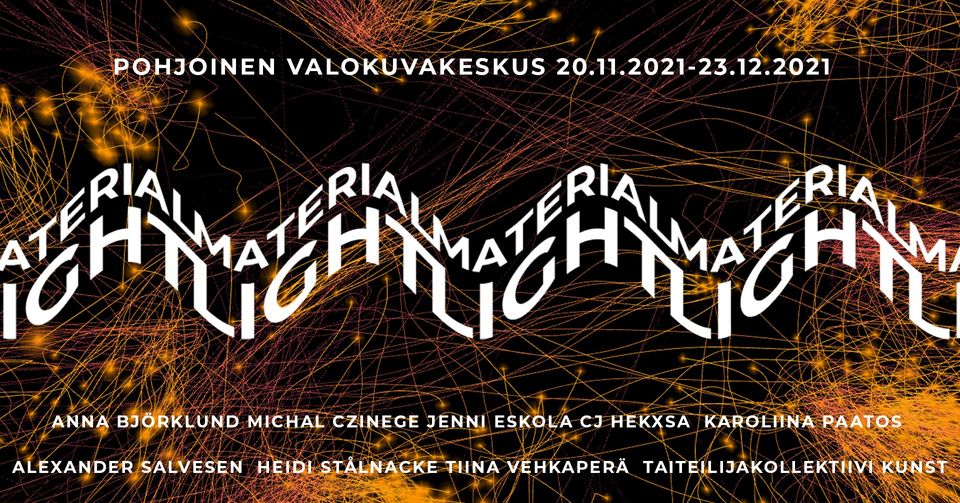 Material Light, Pohjoinen Valokuvakeskus, Oulu 20.11.-23.12.2021
MATERIAL LIGHT
Anna Björklund, Michal Czinege, Jenni Eskola, cj hekxsa, Karoliina Paatos, Alexander Salvesen, Heidi Stålnacke, Tiina Vehkaperä, Artist Collective Kunst
Curator: Anu Raatikainen Northern Photographic Center

The Finnish Light Art Society FLASH, Northern Photographic Center and the Artists' Association MUU ry are co-organizing the second part of the event Material Light, which deals with the materiality of light and focuses especially on light art, at the Northern Photographic Center in Oulu on 20.11.2021-23.12.2021.
The exhibition is part of the LUMO light festival to be held in Oulu on 19-21 November 2021.
The materiality of light is approached on many different media and levels, from concrete light as a material of art to its more conceptual processing. Among other things, the works answer the questions of how light feels, what it means, tells and conveys.What can be found in deep dark black? Can the body breathe light and how does light feel? What are light beings like? How does light created as a generative simulation behave? The works in the exhibition are connected to time, cycles and change, organismicity and perceptual experience, among other things. As a phenomenon escaping between the material and the non-material, light confuses. We cannot see the light itself, but it conveys to our eyes the materiality of the world around us.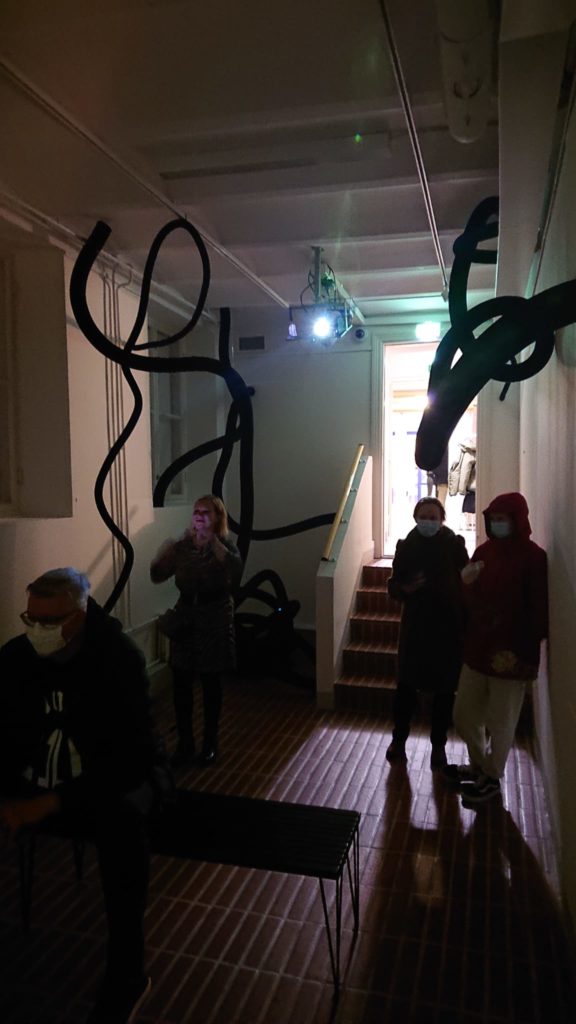 The event, which brings together different fields of visual art, offers a diverse set of reflections on the meaning, role and possibilities of light as a tool for visual art during the darkest time of the year. As a joint project of FLASH, MUU and the Northern Photographic Center, the event brings together representatives and creators of various art forms in a diverse way, thus providing a framework and fertile ground for discovering new and creating new connections.
Three northern Finnish artists have been selected for the exhibition through an open call held in the summer of 2021: Karoliina Paatos, Heikki Salo and Tiina Vehkaperä.
The artists of the first part of the exhibition, organized at the MUU Helsinki Contemporary Art Center, are Alexander Salvesen, Jenni Eskola, Michal Czinege, Anna Björklund, Heidi Stålnacke from Oulu and the Artists' Collective Kunst.
The artists are also involved in the second part of the project. The event is curated by visual artist Anu Raatikainen.
Material Light has been realised in co-operation with the Finnish Light Art Society FLASH, Northern Photographic Center Oulu, MUU ry, and the LUMO light art festival.
The project has been supported by LUMO and the City of Oulu.

https://valotaiteenseura.fiPohjoinen valokuvakeskus:
http://www.photonorth.fi/Lumo Light Festival Oulu
https://www.ouka.fi/oulu/lumoTaiteilijajärjestö MUU ry
https://muu.fi
Event in Facebook